Recently, Shenyang Human Resources and Social Security Bureau publicized the first batch of Shenyang talents in 2022. Zhang Xiong, the chief engineer of Shenyang Marka Intelligent Technology Co., Ltd., was awarded the title of "Leading Talent" after strict selection. This is not only a high recognition of Mr. Zhang's persistence and courage in the industry, but also a high recognition of today's talents under his leadership to forge ahead and innovate and develop.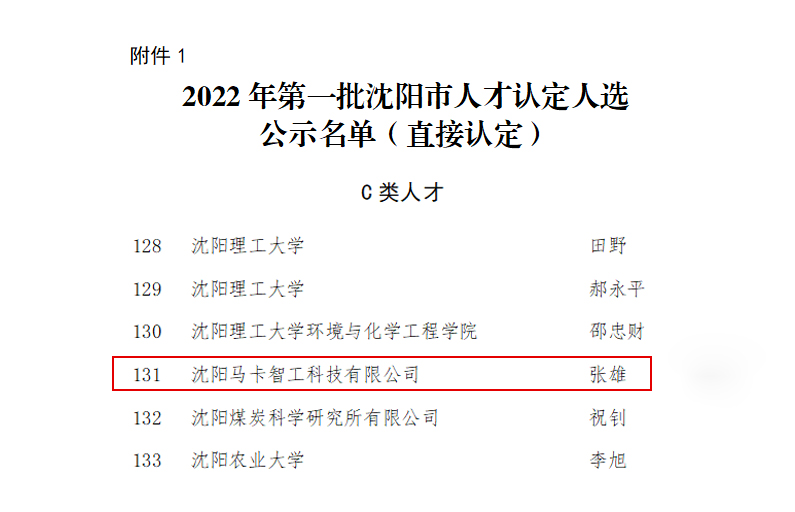 President Zhang has been bent over the R&D and manufacturing of the CNC machine tool industry for more than 30 years, persevering and building dreams with ingenuity. Under the leadership of President Zhang, Marka Intelligent Technology Co., Ltd. has made comprehensive efforts in technical breakthrough, standard formulation, intelligent manufacturing, talent cultivation, responsibility undertaking, etc., achieved remarkable achievements in technical innovation, market performance, etc., and constantly improved the level of industrial development and enterprise competitiveness, making great contributions to the high-quality development of the industry. Previously, General Manager Zhang presided over the design and completion of dozens of CNC machine tools, including vertical machining centers, horizontal machining centers, gantry machining centers, gantry five axis machining centers, turning milling composite machining centers, bridge five axis machining centers, vertical five axis machining centers, FMC flexible manufacturing units, gantry mobile machining centers, and floor type machining centers. Among them, 6 products won the national key new products. The products researched and developed have won many national, provincial and municipal awards, and individuals have won many government honors. In 2004, he was selected as one thousand person level candidate in the third batch of Million Talents Project in Liaoning Province, and in 2007, he was selected as one hundred person level candidate; In 2005, he was honored as an advanced worker of "respecting labor, knowledge, talents and creation" in Shenyang; In 2006, he was awarded the title of "The Fourth Shenyang Excellent Expert".
This award is not only a personal recognition of President Zhang, but also a full affirmation of Marka Intelligent Technology Co., Ltd.'s continuous achievements in market innovation, technological innovation, management innovation, etc. We believe that Marka can continuously give play to its advantages, provide more excellent and perfect solutions and services for more customers, and contribute to the all-round revitalization of Marka!
Talents are the most valuable wealth, the first resource for innovation, and the key force of Marka Intelligent Technology Co., Ltd. Maka will not shoulder the responsibility and responsibility of the enterprise, continue to enrich the fertile soil for talent development, accelerate the pace of talent introduction, improve the talent incentive mechanism, enrich the talent growth platform, pool talent wisdom and strength, forge ahead bravely, move forward towards higher goals, and strive to become the leader of smart industry with the attitude and belief of industry leader.