Recently, Shenyang Association of Science and Technology issued the Decision on Approving the Establishment of Shenyang Expert Workstation in 2022, and announced the list of new academician (expert) workstations in Shenyang in 2022. Shenyang Maka Intelligent Technology Co., Ltd. was listed among them, becoming one of the 15 companies that will build Shenyang expert workstations in 2022.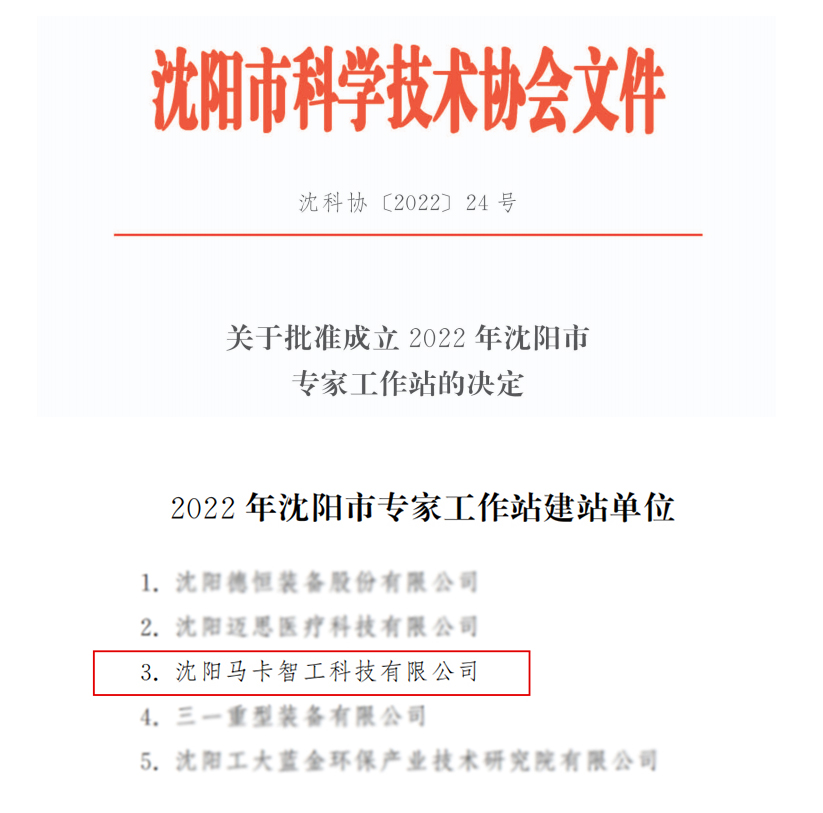 The newly-built units should take the expert workstation as the platform, give full play to the intellectual advantages of experts, make achievements in talent training, technical research, project cooperation, consultation and demonstration, and constantly enhance their independent innovation ability and core competitiveness, so as to contribute to the all-round revitalization of Shenyang in the new era and achieve new breakthroughs.
Innovation is the first driving force for development. Since its establishment, Shenyang Marka Intelligent Technology Co., Ltd. has continued to carry out scientific research and innovation work based on the needs of the industry and customers, promoting independent innovation and production optimization and upgrading, and injecting strong power into the high-quality development of the company's cause. In the future, Marka will also further increase its investment in independent intellectual property research and development, consolidate the company's development foundation, and contribute more to the development of high-end CNC equipment in China.
Talents are the first resource to promote development. At present, Marka has 23 scientific and technological research and development personnel, and its core R&D technical team has more than 15 years of R&D experience in the field of CNC machine tools. Marka always adheres to the strategic policy of "talent led development", aims to master the core technology of the industry, and takes technological innovation as the guidance, actively attracts high-end R&D talents globally, and constantly improves the core competitiveness of the company.
The establishment of Marka "Shenyang Expert Workstation" is conducive to further strengthening the joint efforts of the company and experts to tackle technical problems, further enhancing the research and development of new technologies and new products, and further cultivating the independent brand of enterprises. This is not only a great event in the company's scientific and technological construction, but also has a positive significance and far-reaching impact on the five axis machine tool manufacturing industry. In the future, the company will promote expert workstations, make new breakthroughs and achievements in core science and technology and key technology research as soon as possible, transform scientific research achievements into industrial achievements and development achievements as soon as possible, and provide technical support and talent support for high-quality development of the enterprise.